February
Germany, Legal
Thirty-three decrees are published, including the banning of rival political meetings or publications and the dissolution of the Prussian parliament. Raids on Communist Party offices begin.
27 February
Germany, Espionage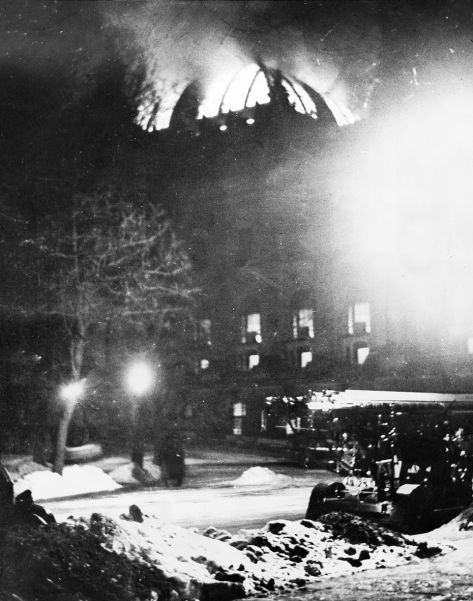 The Reichstag Fire: the parliament building burns to the ground.
There are some mysteries concerning the Reichstag blaze. It was thought to be started by the Dutch ex-communist Marinus van der Lubbe, but it is so convenient for the Nazis that they are suspected of complicity. On the eve of the arson attack on the Reichstag, for example, Rudolf Diels, Prussian State Police, reported to Hitler that the culprit, van der Lubbe was in custody and it was the work of a single demented pyromaniac. Hitler blamed the communists and burst out in fury: "This is a cunning plot! Every communist official must be shot. All communist deputies must be hanged this very night."
The police have quickly made some arrests: Göring, head of the Prussian State Police, has arrested 100 communist Reichstag deputies (the leader of the communists in the Reichstag, Ernst Torgler, has voluntarily surrendered himself to the police). Cynics are saying that it is a Nazi ploy to increase their popularity as defenders of the nation.