8 April
Sea War, North Sea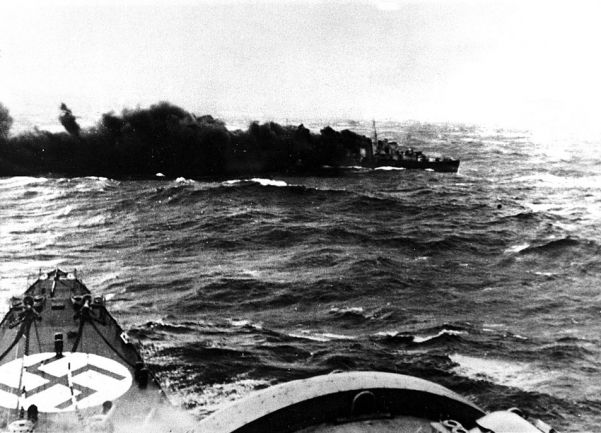 The British destroyer Glowworm intercepts part of the German invasion fleet bound for Norway. It is sunk after ramming the heavy cruiser Admiral Hipper, but a British submarine then sinks the transport Rio de Janiero. However, Royal Navy vessels deployed in the North Sea have not received sufficient information about the German invading force and are unable to intercept it.
9 April
Western Front, Norway/Denmark
A German invasion force, including surface ships, U-boats, and 1000 aircraft, attacks Denmark and Norway. Denmark is overrun immediately.
The first ever airborne assault is made on Oslo and Stavanger airports in Norway, while ships land troops at six locations. Norway's six divisions have no tanks or effective artillery, while its coastal defenses and navy are generally inferior.
However, in Oslo Fiord, shore guns sink the German cruiser Blücher, claiming 1600 lives. This enables King Haakon to escape northward with his government. The British battlecruiser Rodney engages the battlecruisers Scharnhorst and Gneisenau, damaging the latter. The cruiser Karlsruhe is later sunk off Kristiansand by a British submarine.
10-13 April
Sea War, Norway
Five British destroyers launch a surprise attack on 10 German destroyers and shore batteries to the west of Narvik. During short and confused engagements each side loses two destroyers, while eight German merchant vessels and an ammunition carrier are also sunk. The cruiser Königsberg becomes the first vessel to be sunk by dive-bombing during a British air attack on Bergen.
Subsequent air attacks on the Gneisenau, Scharnhorst, and Admiral Hipper by the British on the 12th fail. A British battleship and nine destroyers succeed in sinking eight German destroyers, plus a U-boat, by aerial attack in the Second Battle of Narvik on April 13.
10-30 April
Western Front, Norway
After securing their initial objectives, the Germans begin their conquest of Norway. Major General Carl Otto Ruge, Norway's new commander-in-chief, leads a stubborn defense around Lake Mjösa and the Glomma Valley.
14-19 April
Western Front, Norway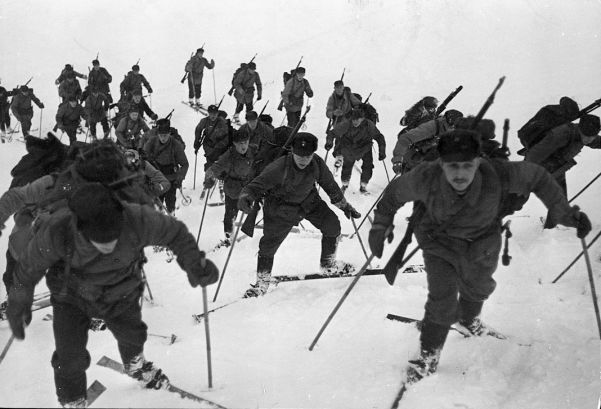 An Allied expeditionary force of over 10,000 British, French, and Polish troops, first formed to assist Finland, lands at Namsos, Alesund, and Narvik. Its objective is to recapture Trondheim to secure a base in Norway, but its units are ill-prepared for the campaign. There has been little liaison with the Norwegians. The various Allied units lack cohesion, training in arctic warfare, key supplies, air cover, and anti-aircraft weaponry.
20-30 April
Western Front, Norway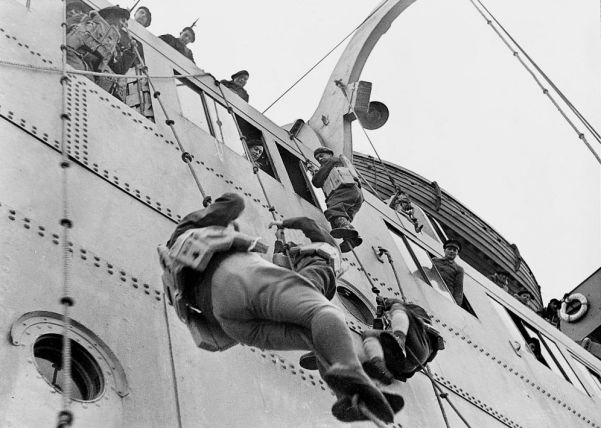 German troops defend Trondheim and wait for the arrival of more forces.
German aircraft launch determined attacks against the Allies. British and French troops eventually evacuate Namsos and Ǻndalsnes on May 1-2.
24 April
Western Front, Norway
An Allied offensive on Narvik begins with a naval bombardment. Allied coordination with the Norwegian forces is poor, but the Germans in the area eventually withdraw at the end of April.