1-7 March
Sea War, Far East
Two Japanese task forces, including four aircraft carriers, inflict serious losses on Allied shipping while sailing to Java in the Dutch East Indies. The Japanese surround the Allies and sink nine warships and 10 merchant vessels with close-range fire.
2 March
Politics, Australia
All Australian adult civilians become liable for war service.
3 March
Air War, Germany
The British Lancaster bomber undertakes its first operation by dropping mines in the Heligoland Bight in the North Sea.
5 March
Politics, Britain
General Sir Alan Brooke replaces Admiral Sir Dudley Pound as chairman of the Chiefs-of-Staff Committee responsible for the daily running of the war and future planning. Britain also extends conscription to men aged 41-45.
5-7 March
Far East, Burma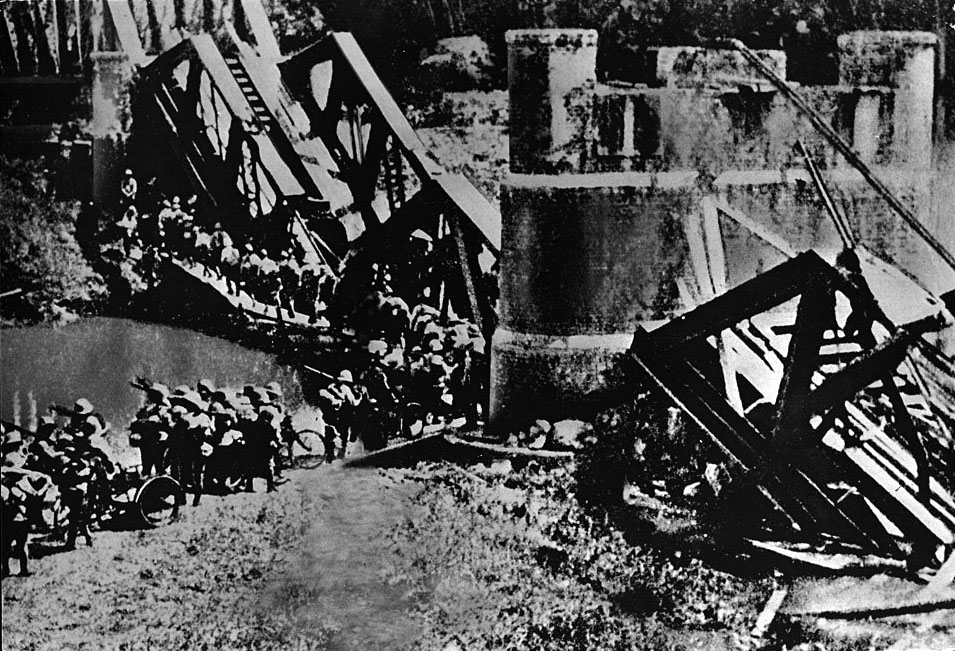 Lieutenant General Sir Harold Alexander replaces Lieutenant General Thomas Hutton as British commander in Burma. Two British divisions have been trying to resist Japanese advances toward Rangoon. Its port is the main point of entry for British supplies and troops. Alexander, however, evacuates Rangoon after realizing his dispersed forces cannot hold it. He himself narrowly escapes before the Japanese seize it on the 7th.
9 March
Politics, United States
Admiral Harold Stark replaces Vice Admiral Robert Ghormley as US naval commander in European waters. Admiral Ernest King assumes Stark's position as Chief of Naval Operations on the 26th.
Far East, Dutch East Indies
Japan gains possession of its 'Southern Resources Area' with the surrender of Allied combatants in the Dutch East Indies. The capture of this resource-rich area and Malaya allows Japan to consider offensives against India and Australia.
11 March
Pacific, Philippines
General Douglas MacArthur leaves his Far East command to become commander-in-chief of US forces in Australia. On leaving, he famously declares: 'I shall return!'
Far East, Burma
US General Joseph Stilwell assumes command of the Chinese Fifth and Sixth Armies around the Eastern Shan States and city of Mandalay. Their aim is to protect the Burma Road into China. The Allied ground forces are supported by one RAF squadron and up to 30 'Flying Tiger' aircraft flown by an all-volunteer force of US pilots. They face over 200 enemy aircraft.
12 March
Pacific, New Caledonia
US Forces, including the first operational deployment of 'Seabee' engineers, begin establishing a base in Noumea on New Caledonia in the southwest Pacific.
13-30 March
Far East, Burma
Lieutenant General Sir Harold Alexander forms an Allied line below the central towns of Prome, Toungoo, and Loikaw near the Salween River and then eastward. Major General William Slim assumes command of the Burma Corps,the main elements of the British forces there on March 19. Japanese attacks begin on the 21st, directed at Chinese forces at Toungoo and the British at Prome.
14 March
Politics, Australia
Large numbers of US troops begin arriving in Australia.
22-23 March
Sea War, Mediterranean
A superior Italian force engages a British convoy sailing from Alexandria to Malta. A relatively small escort of five light cruisers and 17 destroyers initially resists an attack led by the battleship Littorio at the Battle of Sirte. A storm, however, results in the loss of two Italian destroyers. The convoy subsequently faces air attacks and only 5000 of the original 25,000 tons (25,400 metric tonnes) of supplies arrive. British naval losses and commitments in the Mediterranean have reduced the number of ships available for convoy escorts.
27 March
Politics, Britain
Admiral Sir James Somerville assumes command of the Far East Fleet in Ceylon (modern Sri Lanka).
Politics, Australia
Australian General Sir Thomas Blamey becomes commander-in-chief of the Australian forces and commander of Allied Land Forces in Australia, under the supreme command of US General Douglas MacArthur.
28-29 March
Air War, Germany
RAF bombers, including the new Lancaster, attack Lübeck on the Baltic coast. The raid on the historic, timber-built houses of the town signals a change in Bomber Command's strategy, which is now concentrating on the civilian population.
Sea War, Bay of Biscay
Britain's Combined Operations launches an operation to destroy the St. Nazaire dry-dock in France with a force of 611 men. The objective is to prevent the German battleship Tirpitz (currently in Norway) being able to use the only dock large enough to enable it to mount commerce-destroying operations in the Atlantic. An old destroyer, Campbeltown, is filled with explosives and destroys the lock gates after ramming them. A commando force attacks St. Nazaire's dock facilities, but 144 men die and over half are captured.
29 March
Politics, Britain/India
Britain announces its proposals to grant India semi-independent status when the war ends.