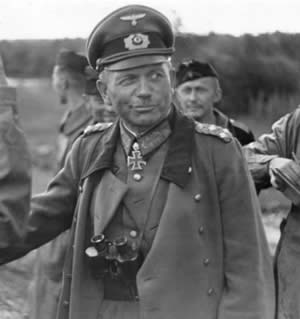 Born in Chelmno in 1888, Guderian became a communications specialist in the German Army and then, after World War I, an advocate of mechanized warfare. In 1934, now a colonel, he became Chief of Staff of the Motorized Troops Command Staff, and in October 1935 assumed command of one of the first three panzer divisions, the 2nd. Guderian stayed with his division until February 1938, thereafter heading XVI Corps headquarters and taking part in the takeover of Austria in March 1938. Hitler was impressed by Guderian and made him Chief of Mobile Troops with the rank of General of Panzer Troops.
Guderian was a gifted panzer commander, as shown by his successes in Poland and France. He stressed to his tank commanders the importance of maintaining attacking momentum and encouraged them not to worry about their exposed flanks, but he was also headstrong and unyielding in his views, which meant he often clashed with his superiors. His arguments over maintaining the advance in northern France in May 1940, for example, brought him into conflict with Kleist, and Guderian threatened to resign (he could also be petulant).
Operation Barbarossa was Guderian's finest hour, when he led his Second Panzer Group east and achieved stunning victories at Minsk, Smolensk and Kiev. Failure before Moscow during Operation Typhoon, however, brought him into conflict with Hitler over the Führer's refusal to sanction withdrawals. A further clash with the commander of Army Group Centre, Kluge, in late December 1941 resulted in Guderian's dismissal.
Guderian was recalled in March 1943 and created Inspector General of Armoured Troops, tasked with rebuilding the shattered panzer arm. On July 21, 1944, he was made Chief of the General Staff, which resulted in more clashes with Hitler over strategy, particularly on the Eastern Front. The result was inevitable: Hitler sent Guderian on six weeks' sick leave on March 28, 1945. After the war he was a prisoner of the Americans until June 1948, thereafter living in retirement in West Germany until his death in May 1954. His memoirs, Panzer Commander, became a seminal work on the theory and practice of armoured warfare.