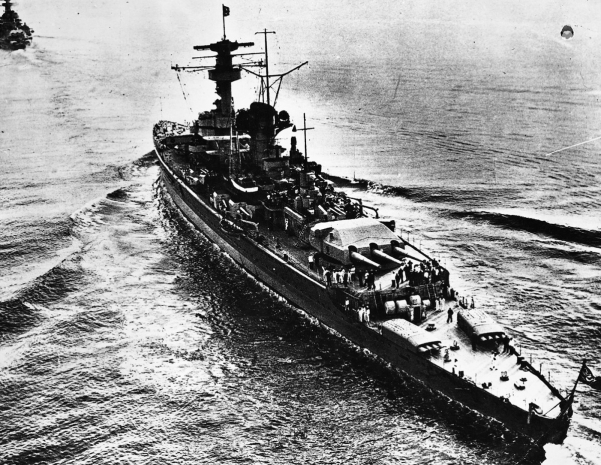 Originally named Deutschland, the Lützow was one of three armoured ships – the so-called "pocket battleships" – laid down between 1928 and 1931. Deutschland was the first of the class, being launched in May 1931 and completed in April 1933. She was originally used as a seagoing training ship, to familiarize crews with her new technology.
On 22 May 1937 she was damaged by bombs dropped by a Spanish Republican aircraft off Ibiza, 22 of her crew being killed. In October 1939, after the outbreak of World War II, she made a sortie into the Atlantic, sinking two merchant ships and capturing a third. On 15 November 1939 she was renamed Lützow, and in February 1940 she was reclassified as a heavy cruiser. During the invasion of Norway in April 1940 she was damaged by shore batteries and by a torpedo from the British submarine Spearfish.
On 13 June 1941 she was again badly damaged by a torpedo from a British aircraft off Norway. After repair, she remained in Norwegian waters in 1942–43 and then went to Gdynia for a refit, subsequently providing fire support for German forces in the Baltic area. On 16 April 1945 she was bombed and sunk by British aircraft, who were roaming the skies of Germany at will, in shallow water at Swinemunde.
Specifications
Type

Pocket Battleship

Length

187.9m (616.5ft)

Beam

21.33m (70ft)

Draught

7.23m (23.75ft)

Displacement (normal)

13,817tnes (13,600t)

Displacement (full load)

15,670tnes (15,423t)

Machinery

Diesels

Armour (belt)

58.42mm (2.3in)

Armour (deck)

40.64mm (1.6in)

Armour (turrets)

139.7mm (5.5in)

Guns

6x11in; 8x5.9in

AA guns

6x3.46in

Aircraft

Two

Crew

1150

Launched

May 1931

Speed

26 knots