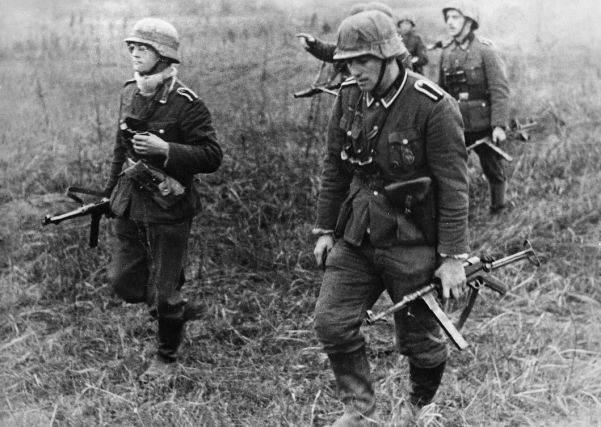 The Maschinenpistole 38 is one of the most celebrated, or perhaps infamous, submachine guns ever placed in service. Designed by the Erma-Werke, the MP 38 introduced a number of unusual and innovative features: the main spring was contained within a telescopic sleeve (as pioneered in the limited-production MP Erma), the butt could be folded, and there was no wood in the weapon, which was therefore entirely of steel and plastic construction. Created from the outset for service with airborne and motorized troops (and thus with the folding butt), the MP 38 had a magazine located vertically under the weapon.
The MP 38 entered production in 1938 and was succeeded in 1940 by the MP 40. Combat experience with the MP 38 in Poland during September 1939 revealed the need for a safety mechanism on the cocking handle when this was in the forward (round cambered) position, when a knock could result in the weapon firing: thus a folding latch was added on the cocking handle to engage a notch on the receiver when forward, thus preventing any movement of the bolt.
This created the MP38/40, and the feature was gradually added to most surviving MP 38 weapons after 1940. Contrary to popular belief, Hugo Schmeisser was never involved in the design of the weapon.
Specifications
Type

submachine gun

Calibre

9mm (0.354in) Parabellum

Length

0.833m (32.8in), butt extended

Length of Barrel

0.252m (9.9in)

Weight

4.086kg (9lb)

Muzzle Velocity

380m (1247ft) per second

Feed

32-round detachable box magazine (500rpm)