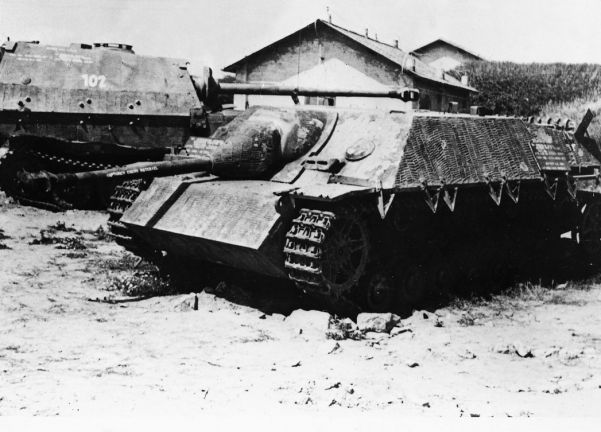 Introduced late in 1943, the Jagdpanzer IV was based on the PzKpfw IV medium tank with the turret removed and the upper hull revised into a fixed superstructure, including 60mm (2.47in) upper and lower frontal plates sloped at 45° and 57° respectively, above the all-welded original hull. The sloping sides of the superstructure extended beyond the vertical hull sides over the tracks to provide additional volume for ammunition stowage (a maximum of 79 rounds). Armour skirts of 5mm (0.2in) thickness were bolted to brackets welded to the vehicle's sides.
The 7.5cm Pak 39 L/48 main gun was installed in the sloped front plate, the mounting being of the gimbal type protected by a heavy external casting. The gun could be elevated between -8° and +10°, and traversed between 12° left and 10° right. The PaK 39 provided a muzzle velocity of 700m (2297ft) per second with APCBC ammunition and 550m (1805ft) per second HE ammunition, and there were also AP40 and smoke projectiles.
On later models of the equipment the muzzle brake was omitted, together with the machine-gun port on the left side of the front plate. Potent on paper, this vehicle was unreliable and produced in too few numbers to make a real impact on the battlefield at a time when Germany desperately needed good kit.
Specifications
Type

four-man tank hunter

Calibre

n/a

Vehicle Length

7.29m (23ft 11in)

Length of Barrel

n/a

Weight Travelling

n/a

Weight in Action

23,788kg (52,443lb)

Elevation Arc

n/a

Traverse Arc

n/a

Effective Ceiling

n/a

Road Range

220km (130 miles)

Range

n/a

Projectile Weight

n/a

Armour

10-60mm (.3-2.36in)

Engine

Maybach HL 120 TRM

Muzzle Velocity

n/a

Speed

45km/h (28mph)