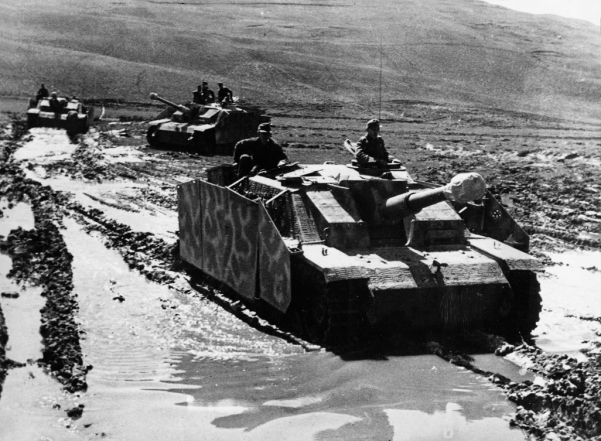 Introduced to service in August 1942 and otherwise known as the Sturmhaubitze 42 Ausf F, the five-man 10.5cm Feldhaubitze 42 was basically identical to the Sturmgeschütz 40 Ausf F (SdKfz 142/1) in all major essentials except its armament, which was the powerful 10.5cm Sturmhaubitze 42, an L/18 weapon based on the 10.5cm leichte Feldhaubitze 18. This was installed in an armoured mounting in the front of the raised superstructure of welded steel armour that replaced the turret (as above).
This main armament was provided with 36 rounds of ammunition, though none of this was of the armour-piercing type as the StuH 42 was intended solely for the assault role in support of infantry, but there was no machine gun to provide a local defence capability. The StuH 42 howitzer could be elevated in an arc between -6° and +17°, and the weapon could be traversed 20° left and right of the centreline.
The first vehicles had a version of the StuH 42 with a muzzle brake, but later machines were equipped with a howitzer not fitted with a muzzle brake and incapable of firing supercharge ammunition. Smoke dischargers were fitted at the front of the superstructure's sides, and the ommander was provided with a cupola with episcopes for all-round vision on the battlefield.
Specifications
Type

SP assault howitzer

Calibre

n/a

Vehicle Length

5.50m (18ft 0.5in)

Length of Barrel

n/a

Weight Travelling

n/a

Weight in Action

23,370kg (51,520lb)

Elevation Arc

n/a

Traverse Arc

n/a

Effective Ceiling

n/a

Road Range

155km (96 miles)

Range

n/a

Projectile Weight

n/a

Armour

80mm (3.15in)

Engine

one Maybach HL 120

Muzzle Velocity

n/a

Speed

40km/h (25mph) on roads and 24 km/h (15 mph) across country