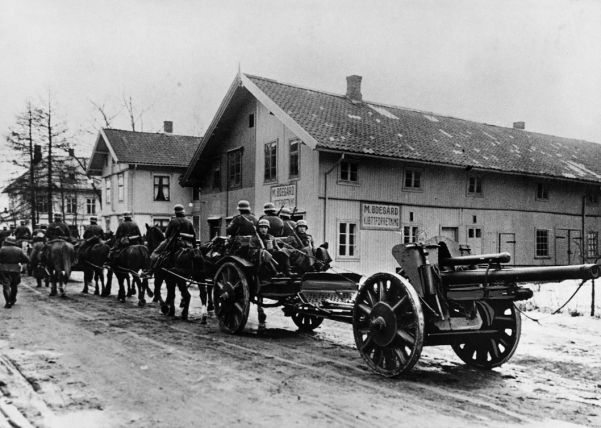 The 10.5cm le FH 18 was designed and developed by Rheinmetall from 1928 and entered service in 1935 as what became the standard medium field howitzer of the German Army up to 1945. The le FH 18 was a completely orthodox but capable and reliable weapon given a somewhat obsolescent look as a result of its large wheels. The type was latter adapted as the le FH 18.M with a muzzle brake to reduce the recoil forces, and could fire a wide variety of shells including high explosive, smoke, tracer, hollow-charge and incendiary.
In the period before 1938 the type was exported to Hungary and Spain, and during World War II was installed in a large number of self-propelled mountings. The one major problem with the le FH 18 was its considerable weight, and in March 1942 there appeared a requirement for a lighter howitzer offering the same capabilities.
This led to the le FH 18/40, a weapon that combined the barrel of the le FH 18.M and a modified 7.5cm PaK 40 carriage on which the original wheels were later replaced by larger wheels carrying tyres of greater width. The le FH 18/40 (specification at right) supplemented rather than supplanted the le FH 18. The latter, though, served on all fronts in World War II and gave sterling service to the German Army, proving very reliable in adverse weather conditions.
Specifications
Type

medium field howitzer

Calibre

105mm (4.13in)

Vehicle Length

n/a

Length of Barrel

2.71m (106.7in)

Weight Travelling

1955kg (4310lb)

Weight in Action

n/a

Elevation Arc

-6° to +40°

Traverse Arc

56°

Effective Ceiling

n/a

Road Range

n/a

Range

12,325m (13,480 yards)

Projectile Weight

14.81kg (32.65lb)

Armour

n/a

Engine

n/a

Muzzle Velocity

540mps (1772fps)

Speed

n/a