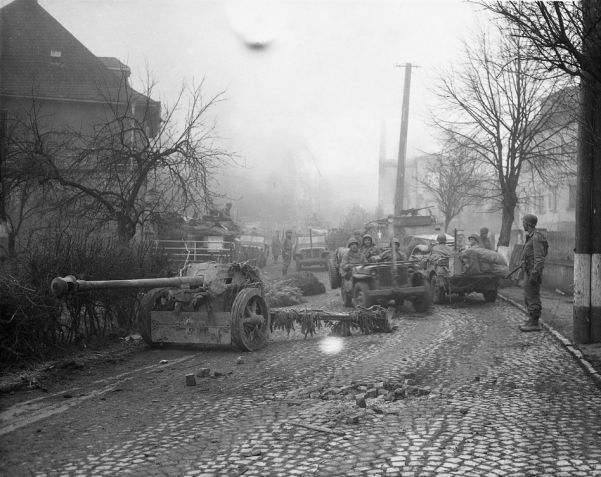 Built in competition with the Rheinmetall-Borsig 7.5cm PaK 40 as a means of providing the German Army with the best possible weapon to succeed the 5cm PaK 35/36, the 7.5cm Panzerabwehrkanone 41 was designed by Krupp, the other main creator of larger-calibre weapons for the German Army.
The weapon was characterized by the incorporation of several advanced features. The equipment was thus the largest of the Gerlich taper-bore guns with a calibre of 7.5cm at the breech reducing to 5.5cm at the muzzle. It possessed trail legs attached directly to the one-piece shield in a fashion that effected considerable economies in manufacturing time and also in weight, and incorporated an automatic hydraulic braking system operated by the towing vehicle. In addition, the PaK 41 had a commendably low overall silhouette, and its comparatively light weight was a decided advantage in handling the weapon.
But for its particular ammunition requirement, which was based on a tungsten-cored shot with collapsing light alloy skirts, and a barrel that lasted for only 400 rounds because of the demands placed on it, the PaK 41 might well have become a standard weapon. Thus only 150 PaK 41 guns were produced, and when tungsten for their special ammunition was exhausted, the weapons were scrapped.
Specifications
Type

medium towed AT gun

Calibre

75/55mm (2.95/2.1in)

Vehicle Length

n/a

Length of Barrel

4.32m (170in)

Weight Travelling

1356kg (2989lb)

Weight in Action

unknown

Elevation Arc

0° to +16°

Traverse Arc

60°

Effective Ceiling

n/a

Road Range

n/a

Range

n/a

Projectile Weight

2.59kg (5lb 11.25oz)

Armour

n/a

Engine

n/a

Muzzle Velocity

1124mps (3690fps)

Speed

n/a