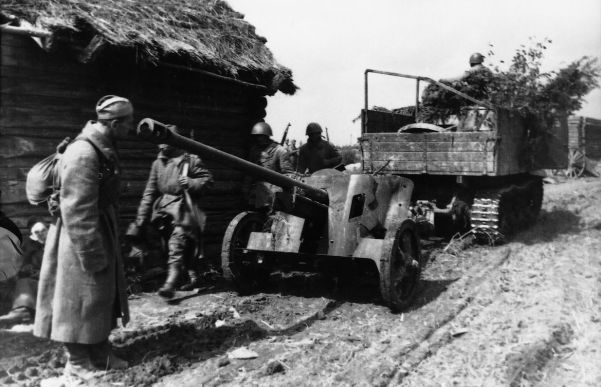 The need for an anti-tank gun with a calibre greater than that of the 3.7cm PaK 35/36 had been anticipated even as the PaK 35/36 was entering service, and the design of a new 5cm weapon began during 1938. The design authority was again Rheinmetall-Borsig, and the new weapon entered service late in 1940 as the 5cm Panzerabwehrkanone 38.
This was a capable gun that remained in service right to the end of World War II: firing tungsten-cored AP40 ammunition, the PaK 38 could successfully tackle all but the most heavily protected Allied tanks, and between 1941 and 1942 was the only German anti-tank gun able to penetrate the armour of the Soviet T-34 tank.
The employment of light alloys in the carriage lighted the equipment and made it easier to handle. The wheels had torsion-bar suspension that was locked when the trails were split, creating a stable firing platform.
Later in the war the PaK 38 was adapted for aircraft mounting as the Bordkanone 5 with an automatic feed system, and this was then used as the basis for the 5cm FlaK 214 anti-aircraft gun. As an anti-tank gun the PaK 38 was installed on a number of self-propelled mountings including the 5cm PaK 38 (Sf) auf leichter Selbstfahrlafette, the SdKfz 250 and the 5cm Pak 38 auf PzKpfw II nA.
Specifications
Type

medium towed AT gun

Calibre

50mm (1.97in)

Vehicle Length

n/a

Length of Barrel

3.173m (124.9in)

Weight Travelling

986kg (2174lb)

Weight in Action

unknown

Elevation Arc

-8° to +27°

Traverse Arc

65°

Effective Ceiling

n/a

Road Range

n/a

Range

450m (490 yards)

Projectile Weight

2.25kg (4lb 15.25oz)

Armour

n/a

Engine

n/a

Muzzle Velocity

1198mps (3930fps)

Speed

n/a