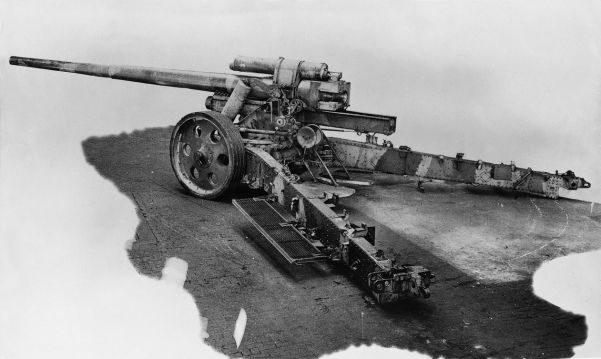 In the 1930s Krupp responded to a requirement of the Turkish Army with the development of a powerful gun in 150mm calibre. Production got under way in the later stages of the decade, but delivery of the first completed weapons was prevented by the outbreak of World War II in September 1939 (notwithstanding its spectacular victories, the German Army entered the war with a shortage of equipment).
In 1940, therefore, the German Army decided to adopt the weapons for dual-role service in the heavy field and coastal-defence roles. In the former the weapon was fired on its split-trail carriage, while long-range accuracy in the latter role was enhanced when the weapon was fired from a mobile turntable carried by a special transport: when the gun was operated in this task, after the turntable had been dug in, the trails were connected as a single unit and the whole equipment could be traversed through 360° by operation of a mechanism powered by the rotation of a handle.
For road movement the K 39 was moved in three loads (barrel and transporter, carriage, and platform and transporter). The K 39 was a capable piece of artillery and remained in production until the end of the war in 1945. The main problem with large-calibre artillery pieces was the general lack of prime movers to move them to and from the battlefield.
Specifications
Type

heavy towed field gun

Calibre

149.1mm (5.87in)

Vehicle Length

n/a

Length of Barrel

7.868mm (309.7in)

Weight Travelling

n/a

Weight in Action

12,200kg (26,896lb)

Elevation Arc

-3 to +46°

Traverse Arc

60-360°

Effective Ceiling

n/a

Road Range

n/a

Range

24,700m (27,010 yards)

Projectile Weight

43kg (94.8lb)

Armour

n/a

Engine

n/a

Muzzle Velocity

865mps (2838fps)

Speed

n/a