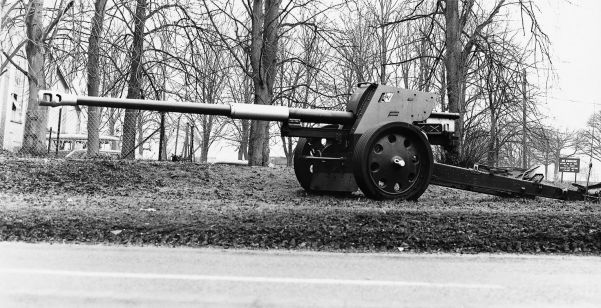 The 8.8cm Panzerabwehrkanone 43 was a Krupp development of the proposed PaK 42. Entering service late in 1943, this equipment proved itself to be the best anti-tank gun of World War II. The weapon possessed a low silhouette and was also protected by a well-sloped shield, and its potency was revealed by the fact that the PaK 43 was the only German weapon able to penetrate the thick and well-sloped armour of the Soviet IS heavy tanks, and then at ranges well in excess of those offered by smaller-calibre guns.
The PaK 43 was odd for a German weapon in using a semi-automatic breech block of the vertically falling type and having electrical firing, and was installed on a cruciform carriage based on that of the 8.8cm FlaK guns: thus the equipment was moved on four wheels with the outrigger arms folded. The PaK 43 could be fired from this wheeled carriage, but the general practice was for the gun to be dug in.
Self-propelled mountings for this exceptional weapon were the 8.8cm PaK 43/3 auf Panzerjäger 38(t), the 8.8cm Panzerjäger 43 auf Sfl 38(d), the 8.8cm Pak 43/3 auf Krupp Steyr Sfl 38(d), the Panzerjäger III/IV Nashorn früher Hornisse, the Jagdpanzer Tiger (P) Elefant mit 8.8cm PaK 43/2, the 8.8cm PaK 43/3 auf Panzerjäger Panther, the Jagdpanther (SdKfz 173), and the Jagdtiger für 8.8cm PaK 43 (SdKfz 186).
Specifications
Type

heavy towed AT gun

Calibre

88mm (3.46in)

Vehicle Length

n/a

Length of Barrel

6.61m (260.25in)

Weight Travelling

5000kg (11,023lb)

Weight in Action

n/a

Elevation Arc

-8° to +40°

Traverse Arc

360°

Effective Ceiling

n/a

Road Range

n/a

Range

450m (490 yards)

Projectile Weight

7.3kg (16lb 1.5oz)

Armour

n/a

Engine

n/a

Muzzle Velocity

1130mps (3707fps)

Speed

n/a