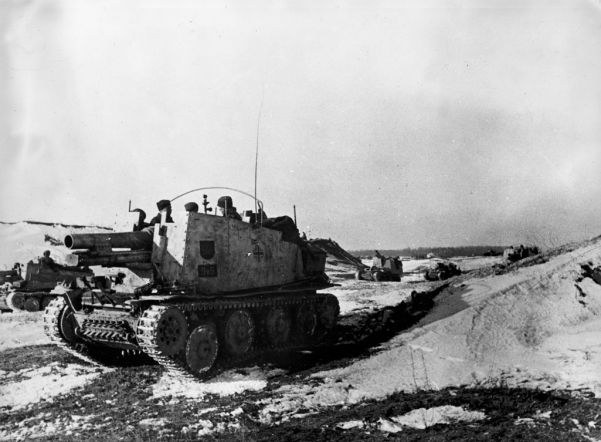 The Grille was first ordered for construction on the new self-propelled gun chassis that BMM was developing, the resultant vehicle being designated Sf 38(t) Ausf K. However, wartime demands resulted in Panzer 38(t)s being used instead, being converted by BMM as they returned from the front for refits. The standard chassis was fitted with a new fighting compartment superstructure, which had to be extended over the engine compartment in order to accommodate the sIG33/1 L/12 heavy gun and its 15 rounds of ammunition.
A total of 90 were produced between February and April 1943. All Grilles were issued to the heavy infantry assault gun companies of panzergrenadier regiments, serving in Russia, Tunisia, Italy and France from early 1943. In June 1944, at the time of the D-Day landings, the Grille was still in service with the 38th Panzer Heavy Infantry Assault Gun Abteilung of the 2nd Panzer Division in Normandy.
The Praga EPA/2 engine had five forward gears and one reverse, and gave a top speed of 35km/h (21.87mph). As with most infantry assault guns, the crew were housed in an open superstructure, though the provision of an MG34 machine gun gave them some protection from enemy infantry antitank squads.
Specifications
Designation

SdKfz 138/1

Type

SP Heavy Infantry Gun

Length

4.61m (14ft)

Width

2.16m (7.08ft)

Height

2.4m (7.87ft)

Weight

11,709kg (25,760lb)

Crew

Five

Main Armament

150mm

Secondary Armament

1 x 7.92mm

Engine

Praga EPA/2

Range

185km (115.6 miles)

Speed

35km/h (21.87mph)

Fording

.9m (3ft)

Trench Crossing

1.87m (6.13ft)

Armour (hull)

50mm (1.96in)

Armour (turret/superstructure)

25mm (.98in)