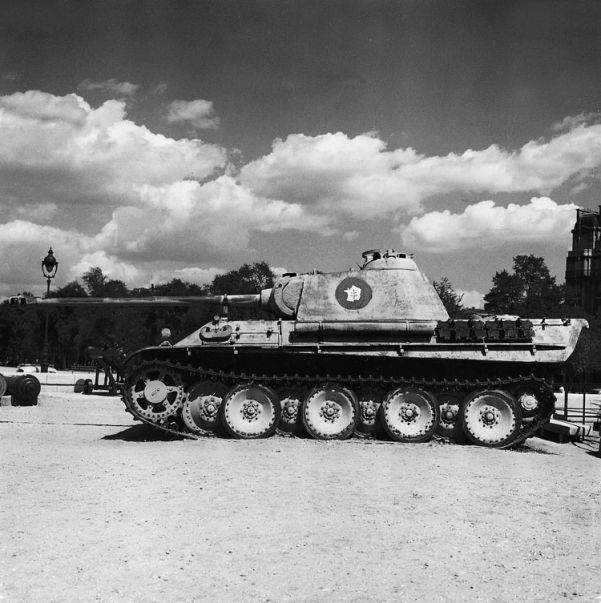 As a result of recommendations and comments from troops in the field using the Panther Ausf A and D, the Ausf G incorporated a number of design changes. Chief among them was a redesigned hull, which incorporated increased side armour on the upper-hull side and a single-piece side plate. The driver's vision port was done away with, being replaced by a rotating periscope. In addition, the driver could drive with his head out of the hatch thanks to an adjustable seat and extendible controls.
Suspension was as standard, though in September 1944 a number of vehicles were fitted with steel-rimmed "silent bloc" wheels that became standard on the Ausf F in 1945. Other modifications included armoured ammunition bins, a heater system that drew warm air from a device over the left-side engine fan, and flame-trap exhaust mufflers.
The Ausf G saw service on the Eastern Front and in the West from March 1944 to the end of the war, during which time 3126 were produced. It comprised over half the tank strength of the panzer divisions in 1945, its KwK42 L/70 gun taking a heavy toll of Soviet tanks in the fighting in East Prussia and Hungary. However, by that late stage of the war the Panthers were unable to stop the deluge of Red Army armoured units.
Specifications
Designation

SdKfz 171

Type

Heavy Medium Tank

Length

8.86m (29.06ft)

Width

3.43m (11.25ft)

Height

2.98m (9.77ft)

Weight

46,327kg (101,920lb)

Crew

Five

Main Armament

75mm

Secondary Armament

2 x 7.92mm

Engine

Maybach HL230P30

Range

200km (125 miles)

Speed

46km/h (28.75mph)

Fording

1.7m (5.57ft)

Trench Crossing

1.91m (6.26ft)

Armour (hull)

80mm (3.14in)

Armour (turret/superstructure)

110mm (4.33in)