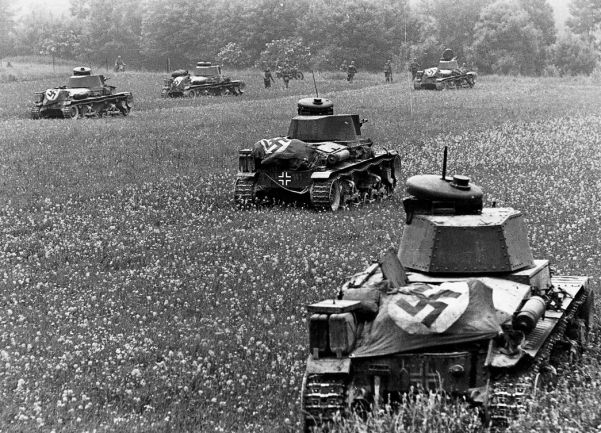 The Panzer 35(t) was a Czech-designed tank in the 10-ton class. As well as being rugged, much thought had gone into ease of operation. Thus, a 12-speed gearbox combined with a a pneumatic-servo-mechanical steering unit to make the tank easy to drive. In addition, the suspension system, consisting of two sets of four-wheel bogie units each side, was very hard wearing.
The four-man crew sat in a single compartment, with the engine at the rear. The tank's armament, like most Czech tanks of the period, consisted of a 37mm gun (in this case the Skoda A3) plus a coaxial 7.92mm machine gun and a second machine gun in the hull front.
Approximately 160 were built for the Czech Army, having the designation LT-35. Following the annexation of Czechoslovakia by Germany, 106 of these vehicles were given to the 6th Panzer Division. During the campaign in the West in 1940, the Panzer 35(t) formed the backbone of the armoured strength of this particular unit.
Though it performed well in Poland and the West in 1939-40, the 35(t)'s shortcomings became clear in Russia. When the 6th Panzer Division fought on the Eastern Front in 1941, for example, it lost half its Panzer 35(t)s in the first six months of combat. As well as the German Army, the Panzer 35(t) was used by the armed forces of Bulgaria, Romania and Slovakia.
Specifications
Designation

Panzerkampfwagen 35(t)

Type

Light Tank

Length

4.9m (16.07ft)

Width

2.1m (6.88ft)

Height

2.35m (7.7ft)

Weight

10,690kg (23,520lb)

Crew

Four

Main Armament

37mm

Secondary Armament

2 x 7.92mm

Engine

Skoda T11

Range

190km (119 miles)

Speed

35km/h (21.87mph)

Fording

1m (3.25ft)

Trench Crossing

1.9m (6.23ft)

Armour (hull)

25mm (.98in)

Armour (turret/superstructure)

25mm (.98in)