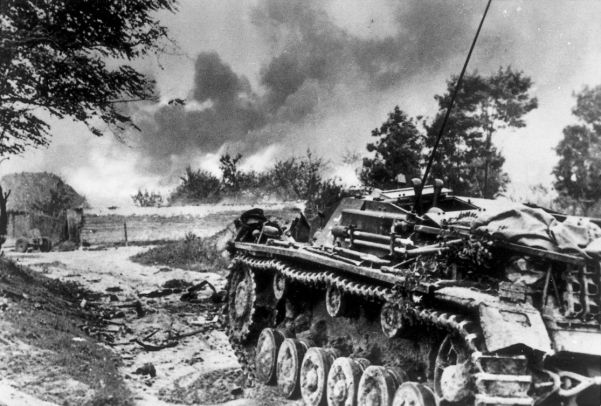 During World War II flamethrower tanks were popular with infantry units for a number of reasons, such as their ability to deal with enemy bunkers and strongpoints (thus saving infantry formations having to get close to such locations, which would have resulted in heavy casualties), and thus demoralise the enemy in general. It was therefore logical that the Germans would convert a number of StuGs, their prime assault gun, to flamethrowers.
In December 1942, plans were instigated to increase StuG III production by using the new chassis already on order for the Panzer III. However, with the ending of Panzer III production it was decided that of the 220 StuGs being delivered in June 1943, 10 would be converted to become Flammenwerfers (flamethrowers). From photographic evidence it appears that all these vehicles were converted from StuG III Ausf F/8s.
The conversion involved only small changes. The sturmkanone (assault gun) was replaced by a flamethrower, and fuel tanks for the weapon were also fitted. The 14mm Flammenwerfer had a traverse of 10 degrees to the left and right, with an elevation of minus 10 degrees to plus 20 degrees. The Maybach engine gave the vehicle a top speed of 40km/h (25mph), while every vehicle was equipped with a FuG5 radio.
Specifications
Designation

StuG (FI)

Type

Flamethrower

Length

5.52m (18.11ft)

Width

2.95m (9.67ft)

Height

2.16m (7ft)

Weight

23,418kg (51,520lb)

Crew

Four

Main Armament

14mm Flammenwerfer

Secondary Armament

1 x 7.92mm

Engine

Maybach HL120TRM

Range

155km (97 miles)

Speed

40km/h (25mph)

Fording

.8m (2.62ft)

Trench Crossing

2.59m (8.49ft)

Armour (hull)

50mm (1.96in)

Armour (turret/superstructure)

50mm (1.96in)