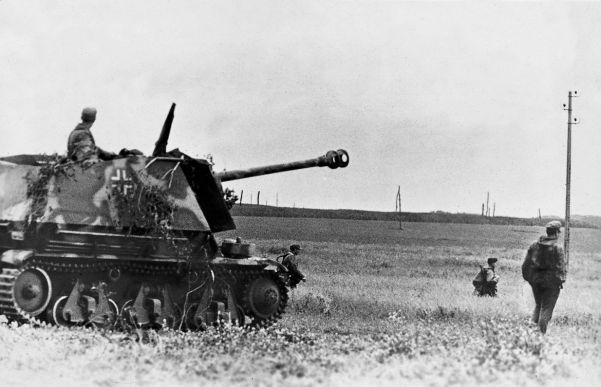 With the capture of so many vehicles following the fall of France in June 1940, the Germans set about converting them for their own use. This was not an immediate decision, as the army was flushed with victory and few believed that large numbers of non-German armoured fighting vehicles would be needed. It was only with the huge losses experienced on the Eastern Front, plus the appearance of the Soviet T-34, that prompted the necessity for large numbers of antitank platforms. One such vehicle was the PaK40 (SF), a self-propelled antitank gun on a light tank chassis. The conversion was unusual in that the engine was left in the rear.
The superstructure and engine cover were removed and a new plate for the driver was fitted as part of the new self-propelled gun conversion. The numbers converted were not great: a total of 24 were modified to carry the 75mm gun (this model is shown in the above photograph), while a further 48 were modified to mount the larger 105mm gun. In both models the gun had a traverse of 30 degrees to the left and right, with an elevation of plus 22 degrees to minus five degrees.
These self-propelled armoured fighting vehicles were assigned to the 8th Panzerartillerie Abteilung serving in France, and they saw action following the Allied D-Day landings in June 1944.
Specifications
Designation

Geschützwagen 39H(f)

Type

SP Antitank Gun

Length

5.31m (17.42ft)

Width

1.83m (6ft)

Height

2.23m (7.31ft)

Weight

8644kg (19,017lb)

Crew

Four

Main Armament

75mm

Secondary Armament

1 x 7.92mm

Engine

Hotchkiss Six-cylinder

Range

150km (93.75 miles)

Speed

36km/h (22.5mph)

Fording

.8m (2.62ft)

Trench Crossing

1.6m (5.25ft)

Armour (hull)

30mm (1.18in)

Armour (turret/superstructure)

30mm (1.18in)