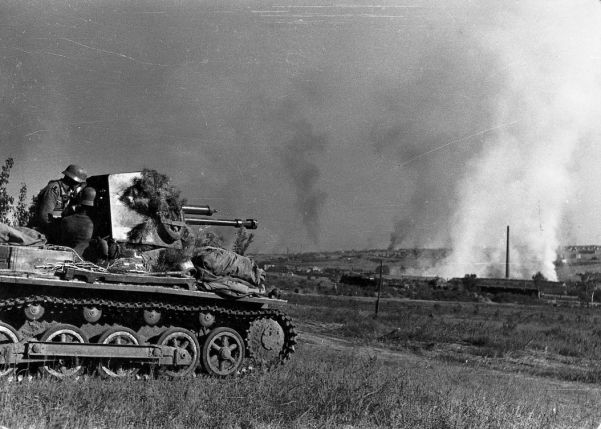 This vehicle was the first of Germany's "tank hunters", and consisted of a Czech 47mm antitank gun on a Panzer I Ausf B chassis (which by early 1940 was obsolete as a frontline tank). Some 170 tank chassis were converted by Alkett of Berlin-Spandau between March 1940 and February 1941.
The conversion was relatively simple, and involved nothing more than removing the tank turret and placing the gun and a three-sided shield in its place. The superstructure was open at the rear, and there was enough room inside for 86 rounds for the 47mm Pak(t) L43.4 gun. The latter was mounted within the shield on a pivoting mount supported by girders. The Maybach engine was driven by a gearbox that had five forward gears and one reverse.
The Panzerjäger was issued to five army antitank battalions, and it first saw action in Belgium and France in May and June 1940 during the German attack in the West. It proved adequate enough, though even at this early date it was becoming obsolete as a frontline fighting vehicle. In North Africa the vehicles saw service with the Afrika Korps in infantry antitank units, while it was also used during the initial phase of the war on the Eastern Front. It also served in Italy. In late 1943 the Panzerjäger was phased out of service.
Specifications
Designation

Panzerjäger

Type

SP Antitank Gun

Length

4.42m (14.5ft)

Width

2.06m (6.75ft)

Height

2.25m (7.38ft)

Weight

6516kg (14,336lb)

Crew

Three

Main Armament

47mm

Secondary Armament

None

Engine

Maybach NL38TR

Range

140km (87 miles)

Speed

40km/h (25mph)

Fording

.85m (2.78ft)

Trench Crossing

1.75m (5.74ft)

Armour (hull)

13mm (.51in)

Armour (turret/superstructure)

13mm (.51in)