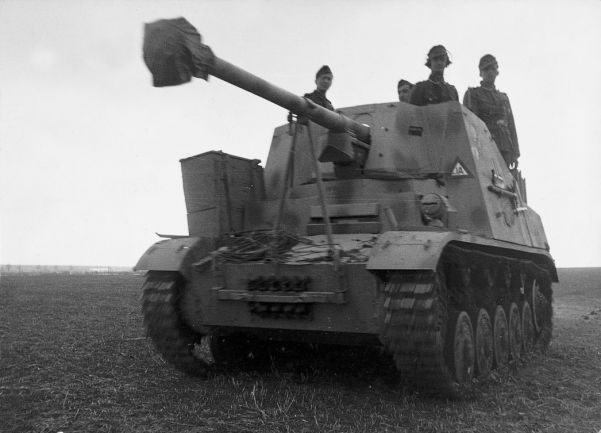 The Marder II antitank vehicle was essentially a 75mm Pak 40/2 gun mated to a Panzer II chassis. By May 1942 the combat effectiveness of the Panzer II (still being produced at a rate of 50 per month) was being questioned - it was certainly obsolete by this date. As a result, early in June it was decided that half the production would be given to mounting the Pak 40 gun on the Panzer II chassis, though assembly was cut short in June 1943 to concentrate on production of the Wespe.
The hull and superstructure front of the Marder II remained the same as the standard Panzer II Ausf F. A further superstructure was built to create the fighting compartment, with the upper half of the field-carriage mount for the Pak 40 being retained. However, girders were added to provide support for the gun. Secondary armament for the three-man crew was provided by one 7.92mm MG 34 machine gun, while 37 rounds were carried for the main gun.
A total of 576 Marder IIs were built between June 1942 and June 1943, with a further 75 Panzer IIs being converted between July 1943 and March 1944. The vehicles were issued to antitank detachments from July 1942 onwards, and served in both the East and West until the end of the war.
Specifications
Designation

SdKfz 131

Type

SP Antitank Gun

Length

6.36m (20.86ft)

Width

2.28m (7.48ft)

Height

2.2m (7.21ft)

Weight

10,996kg (24,192lb)

Crew

Three

Main Armament

75mm

Secondary Armament

1 x 7.92mm

Engine

Maybach HL62TRM

Range

190km (118.7 miles)

Speed

40km/h (25mph)

Fording

.85m (2.78ft)

Trench Crossing

1.75m (5.74ft)

Armour (hull)

35mm (1.37in)

Armour (turret/superstructure)

30mm (1.18in)